Summer = BBQ !
With the arrival of the holidays, we can officially say that the barbecue season has started! A barbecue obviously means conviviality, a joyful meal with friends in the open air and thus enjoying the terrace in your garden.
But having a barbecue is not necessarily a relaxing experience. And in the excitement it can sometimes happen that we forget some basic elements so that everything goes well.
We will therefore see some tips to make your charcoal barbecue as successful as possible. It is a little more complex, long and requires more attention than an electric and gas barbecue.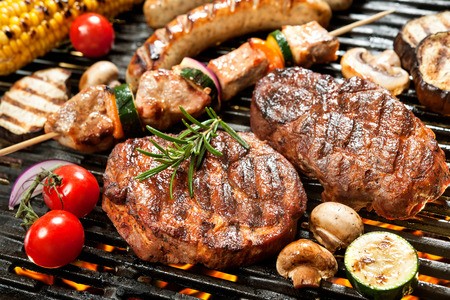 Practical advice.
Above all, it is important to pay attention to the location of your barbecue. Make sure that your barbecue is placed on a stable and wide enough surface. Keep as far away as possible from trees and dry vegetation. It is also important to consider the direction of the wind. Once your barbecue is on, pay attention to its temperature. To do this, observe the embers!
They must be whitish on the surface. Finally, keep a distance of about 10 cm between the grill and the embers to ensure that your meat is cooked evenly. Importantly, red embers are very suitable for cooking over high heat, while grey embers are more suitable for gentle cooking. Be careful, it is not the flames that cook your meats but the embers.
Which utensils to use?
A self-respecting barbecue king must have his own barbecue kit. Composed of a good cutting knife and its cutting fork.
To avoid any metal utensils, it is a heat-conducting material that would simply burn your hands. And to make a successful barbecue, you need it very much!
So choose all utensils with wooden handles. And you'll suddenly be the king of the barbecue!